About NC NOVA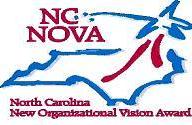 NC New Organizational Vision Award (NC NOVA) is a special state license that honors excellence in the workplace for people employed by home care agencies, adult care homes and nursing homes. It recognizes those who provide better care for our loved ones.
NC NOVA is the first program of its kind in the country. It was developed by a partner team that includes providers of care, workers, shoppers, state inspectors and teachers.
NC NOVA rewards home care agencies, adult care homes and nursing homes for meeting tough standards for their workers who give care.
When you need to find long-term care for a family member, a well-trained staff worker is the key to getting the best quality care.
To receive the NC NOVA license, you must have:
Well-trained, satisfied and loyal workers helping families by caring for their loved ones;
Stronger links among workers, residents, families and management ;
Chances for staff to better their skills and advance their careers;
Stable, quality worker available now and for the future.
How to Apply
Any licensed long-term care or licensed home care provider in good standing may seek NC NOVA licensing. The process has these steps:
The provider sends in proof to show that they meet NC NOVA's difficult, voluntary standards.
The Carolinas Center for Medical Excellence reviews the application and, if in order, schedules a visit.
Workers that give care and other staff workers have private interviews during the visit.
The Carolinas Center for Medical Excellence makes its decision.
N.C. Division of Health Service Regulation gives an NC NOVA license, which is good for two years.
Applications are found online at NC NOVA.
Current NC NOVA recipients

| Facility/Agency | Street | City | Zip Code | County | Type | Date of Issuance |
| --- | --- | --- | --- | --- | --- | --- |
| Huntersville Oaks | 12019 Verhoeff Drive | Huntersville | 28078 | Mecklenburg | Nursing Home | June 1, 2009 |
| Lutheran Home-Albemarle | 24724 HWY 52 South | Albemarle | 28001 | Stanley | Nursing Home | November 1, 2010 |
| Lutheran Home at Trinity Oaks | 820 Klumac Road | Salisbury | 28144 | Rowan | Nursing Home | October 1, 2010 |
| Partners In Care | 1919 Brunswick Avenue | Charlotte | 28207 | Mecklenburg | Home Care | April 1, 2010 |
| Silver Bluff, Inc. | 100 Silver Bluff Drive | Canton | 28716 | Haywood | Nursing Home | January 1, 2009 |
| Sloop Cap/Avery Home Care Services | 358 Beech Street | Newland | 28657 | Avery | Home Care | August 1, 2009  |
| St. Joseph of the Pines | 103 Gossman Drive | Southern Pines | 28387 | Moore | Nursing Home | May 1, 2009 |
| St. Joseph of the Pines, Inc. "dba" The Coventry, Licensee | 105 Gossman Drive | Southern Pines | 28387 | Moore | Adult Care Home | May 1, 2009 |
| Well Spring | 3560 Wildflower Dr. | Greensboro | 27410 | Guilford | Nursing Home | April 1, 2009 |